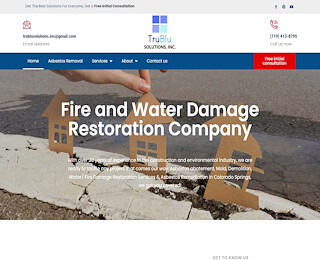 Asbestos Removal Cost Colorado Springs
Asbestos can be dangerous to you and your family members, and that's why you should take urgent steps to ensure your house is rid of it as soon as possible. If you want to do so, you need reliable asbestos removal services. And the average cost for asbestos and lead removal is around $1,123 to $2,872. However, numerous factors affect the cost of asbestos removal. Here are some of them:
The Size of Area
Asbestos is often found all over the house, and in most cases, the more difficult the site is to reach, the more costly it is to remove the asbestos. For instance, removing asbestos inside the house can range from $5 to $20 per square foot, and removing asbestos from a roof or siding could cost up to $150 per square foot. In contrast, an asbestos remediation project on an entire house could start at $15,000, depending on the asbestos abatement and removal services you engage.
Pre-Clean and Setup Costs
The process of setting up to remove asbestos is a time-consuming process. In most cases, a decontamination area is constructed, rooms sealed off, warning signs posted, and disposal containers are prepared. It often costs about $240 to $350 per hour, including the materials involved.
Labor
An asbestos removal project involves a team of people sealing an area and coordinating the process. On average, completing it takes about 8 hours, often requiring at least two employees. The labor costs for asbestos removal often cost about $75 to $200 per person per hour.
Material and Equipment
The materials and equipment needed to remove asbestos also affect the cost. The more materials and equipment used, the higher the removal project costs. The average cost of asbestos materials and equipment will be about $450.
Asbestos Disposal
Each state has its fees for asbestos removal, so a permit to dispose of asbestos can usually cost between $50 and $100, with the disposal rates ranging from $10 to $50 per cubic yard.
Testing
You need asbestos testing services done if you think you have asbestos in your home, which increases the cost of asbestos removal. Asbestos usually costs $250 to $850 because of the variety of city and state laws and regulations.
Other factors that can affect the cost of asbestos removal are:
The kind of building(residential/commercial)
Encapsulation
Repairs
Asbestos Removal Cost by Location (Pipes and Ducts, Attic and Roof, Wall and Drywall, Ceiling and Floor, Tile, Soil, Insulation).
Contact us for a Free Consultation
Do you need top-notch asbestos removal services in Colorado Springs? TruBlu Solutions Inc. should be your go-to company. We boast more than two decades of experience in the construction and environmental industry, and we're adept at tackling asbestos remediation. Our asbestos-certified crew will carefully test for the toxic materials and follow the required guidelines for their removal. Rest assured, you and your family or coworkers will be safe from the dangerous diseases that could result from asbestos exposure. Get in touch with us today for a free initial consultation, and you'll be glad you did.